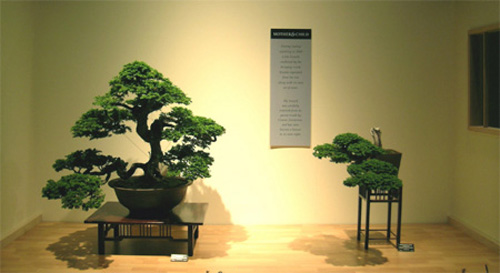 Two trees from one at The Larz Anderson Collection.
I borrowed this image from
Colin Lewis' Bonsai Art website
in
the Larz Anderson section
. Here's what Colin has to say about this photo: Known as "Mother and daughter," these two trees were originally one, until a lower branch, with its own set of roots, became separated from the main trunk in 1969.
In Colin's own words
"The Larz Anderson Collection at the Arnold Arboretum of Harvard University in Boston is the oldest collection of bonsai in the United States. Many of the trees have a documented history going back two centuries or more.
The collection was originally owned by Larz Anderson, a former Ambassador to Japan under the Taft administration. When he returned home in 1913, he brought the bulk of his collection with him and it was, for many years, sited at "The Weld", his stately home in Brookline, now a suburb of Boston. After his death, the collection was donated to the Arnold Arboretum by his widow, Isabel, in October 1937. The expert staff at the Arboretum were able to give the trees excellent horticultural care, but little aesthetic attention until 1969, when Connie Derderian was appointed Honorary Curator. For ten years she diligently worked to restore the now jaded trees, and to train the current Curator, Dr Peter Del Tredici, Chief Research Scientist at the Arboretum. Following Connie Derderian's resignation in 1979, the trees continued to receive expert care but, again, little aesthetic attention.
The surviving specimens in the collection consist primarily of eight Hinoki Cypress, Chamaecyparis obtusa 'Chabo-hiba', several Acer palmatum and a large Pinus parviflora."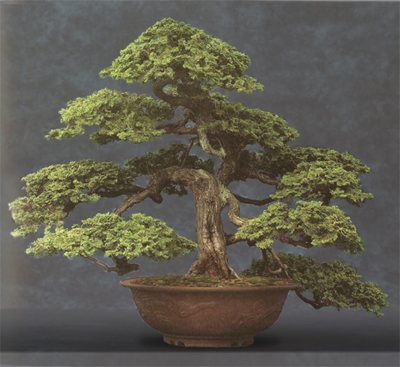 A close up of the Hinoki in the photo above as it appeared in 2006 after five years of feeding, improved soil and training by Colin Lewis. For a good before image, you can visit Colin's site.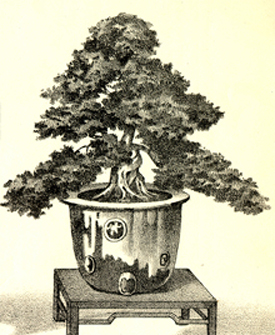 Illustrations from Japanese nursery catalogs of the late nineteenth century offering 'Chabo Hiba' specimens. Above, the Nakasu or Mount Fuji style. Below, Jikka.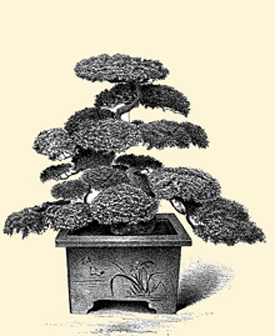 Source:
Bonsai Bark