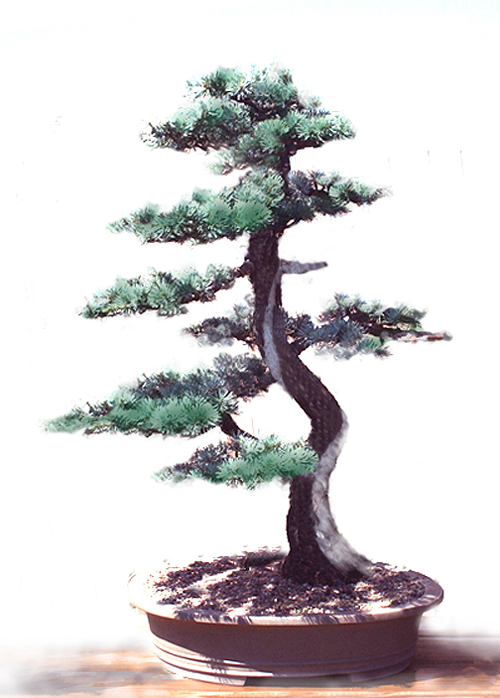 Robert Steven's digitally enhanced version of a Blue Atlas Cedar. The original photo (below) was submitted by Mike Andrews.
The original.
Robert's critique
Basically, this is a very nice Cedar with nice movement and sufficient well-arranged branching and the
shari
helps create a feeling of age. But, there are few issue here :
This bonsai is styled in a very common "S" shape with a basic 1,2,3 branch arrangement. Although there is nothing wrong with it, it lacks excitement. In other words, it could be styled in more interesting and natural fashion.
The shari is not properly done.
As described in my book
Mission of Transformation
, some basic reasons for adding shari are:
- To create the impression of age in a way that mimics natural forces.
- To improve the line and sense of movement in the trunk or branches.
- To correct a monotonous linear dead vein along the trunk.
This last purpose is often unrealized by bonsai artist. When a branch of a conifer is cut, the living vein directly below the branch dies down the trunk to the root base. This effect is disadvantageous if the basic trunk line is monotonous without any winding or twisting. And this is what has been done on this bonsai, the shari's straight line is boring and doesn't reflect the physiology of the tree.
Solution
Nothing can be done to correct the shari. It should have been carved to create a winding or twisting direction to fit the trunk's movement and the starting point should be from the dead branch as in the simulated photo.
However, the design composition can still be corrected by rearranging the foliage pads. Also you can lean the trunk slightly and change the potting position.
This new design better reflects nature and overall looks a little more interesting.
There is more than one way to design any bonsai and my critiques and recommended solutions might not always fit your taste because of personal preferences. But I always try to give my opinion based on artistic and horticultural principles.
Source:
Bonsai Bark