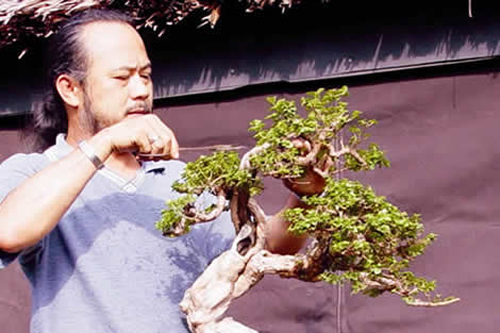 Robert Steven at work.
I just received an email from
Robert Steven
suggesting that we offer his critiques of your trees on
Bonsai Bark
. Needless to say, I hesitated about 1/10th of second (maybe less) in accepting his offer.
About Robert
Robert Steven is one of the most innovative and prolific bonsai artists in the world. Robert possesses enough vision, daring, imagination and masterful control of technique to fuel dozens of us more ordinary bonsai lovers. If you don't believe me (overstatement is not unknown around these parts) check out his books:
Vision of My Soul
, and
Mission of Transformation
.
Here's what you do
Send us photos (wayne@stonelantern.com) of the tree or trees that you want critiqued. Though one simple front view photo will suffice, it might be helpful to send back and side shots as well. Try to make the photo as clear as possible and try to minimize clutter. 500 pixels (or larger) jpegs are best, though other formats will be accepted.
No guarantees
We cannot say for sure that your tree will be chosen to critique, but no harm trying. Send your offerings to wayne@stonelantern.com. We look forward to seeing what you have to offer.
Source:
Bonsai Bark