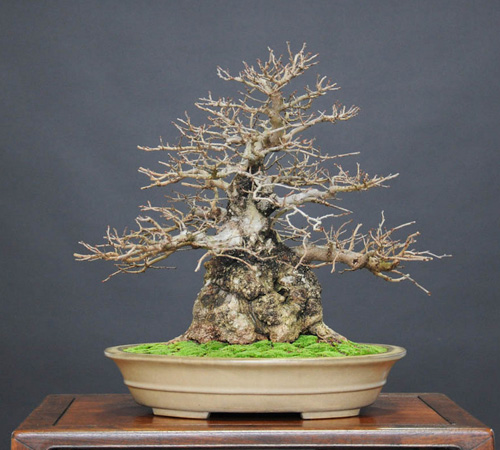 This awesomely stocky little Korean Hornbeam by Jonas Dupuich of Bonsai Tonight (photograph also by Jonas) recently won the Akio Kondo Bonsai Award at the Bay Island Bonsai Exhibit in Northern California (my apologies to Jonas for cropping his photo, but I wanted to show the tree as close up as possible).


Boon & Bay Island Bonsai
Boon Manakitivipart
is one of North America's most accomplished bonsai artists and the owner of
Bonsai Boon
(we've featured
Boon's trees
several times on Bonsai Bark). He is also the driving force behind
Bay Island Bonsai
, which is one of North America's paramount Bonsai Societies (maybe even
the
paramount bonsai society, though I could be asking for trouble). Boon is also teacher to several accomplished bonsai artists, including Jonas Dupuich.
Jonas Dupuich & Bonsai Tonight
Jonas Dupuich is Mr.
Bonsai Tonight
, which is one of my three or four favorite online bonsai destinations. In addition to being an ace photographer, Jonas is a bonsai artist in his own right, which brings us back to the
Akio Kondo Bonsai Award
and to the winning tree (above) that belongs to Jonas. For more on this tree, the award and a host of beautifully photographed high-quality bonsai,
visit Bonsai Tonight
.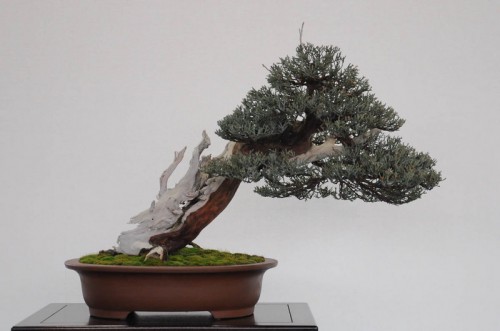 You don't see that many good slant style bonsai and this one qualifies in both respects: it's good and it's definitely slanting. Sierra juniper from Bay Island Bonsai's 12th annual Exhibit. I don't know who the artist is, but the photographer is (once again) Jonas Dupuich.
Source:
Bonsai Bark