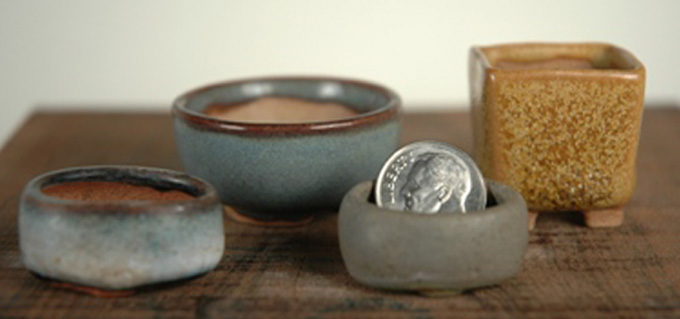 Mini pots, by Jim Barrett. No doubt there are smaller bonsai pots somewhere, but still, these are almost down to the magnifying glass range.
Two posts ago…
… we featured some very small bonsai. This provoked a discussion about tiny pots where someone (
Randy Davis
) mentioned
Jim Barrett pots
. Though I am sure there are others who sell tiny pots (
Robert Steven, a frequent contributor to Bonsai Bark
, mentioned some that are made in China), this might provide a starting point for those of you who are interested.
Brandywine
The
Brandywine Bonsai Society's website
includes a one-of-a-kind section on
North American pots and potters
, which is where all the photos in this post are from.
Yixing bonsai pots
BTW, in case you haven't noticed,
Stone Lantern now offers bonsai pots
. Many are Yixing pots.
Yixing is an area in China
that is renowned for its fine clay. Some of the finest bonsai pots in the world come from Yixing.
Not quite mini, but small. By Wendy Heller (we've featured her before). I have some of Wendy's earthy little pots. They are among my favorites. Photo from Brandywine.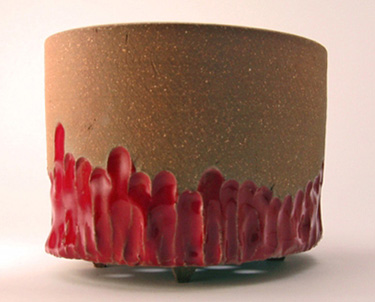 Maybe not tiny, but most certainly striking. By Nikki D'Amico. Photo from Brandywine.
Debbie's red nailhead. By Ross Adams. Not small, but pretty slick. I like the clean lines and glossy glaze. Photo from Brandywine.


Source:
Bonsai Bark