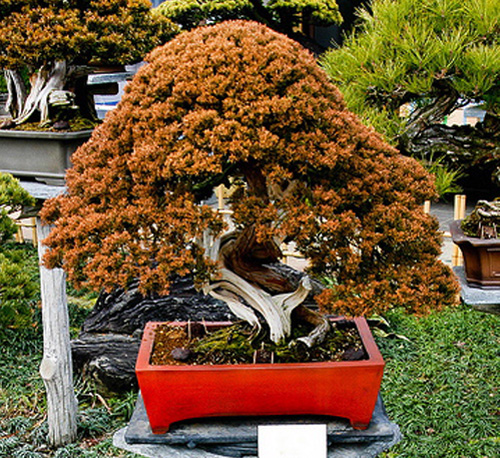 Rarely so red
. You don't see too many Junipers in red pots. For that matter you don't see that many bonsai in red pots. It's a tough color to work with, especially when it's this bright. And no, the juniper isn't dead; it just has a strong case of winter color. It resides at Mr. Daizo Iwasaki's Takasago-an.
A few friends and a camera
Not too long ago Felix Laughlin, President of our National Bonsai Foundation (and the second World Bonsai Friendship Federation chairman) packed up his camera and took a trip to Japan with some friends. The photos shown here are but a small part of the total that Felix took. Our thanks to Felix for his generosity in sharing these. And for his tireless activity in propagating and cultivating the art of bonsai here in the U.S. and beyond.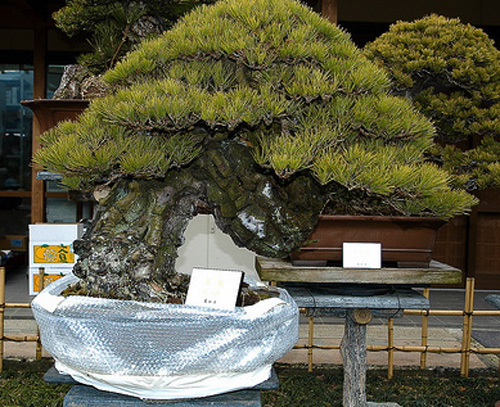 A prize winning black pine at Takasago-an with it's famous pot wrapped in insulating cloth for protection. Too bad we can't see it, though you must admit, with or without the pot showing, the tree is spectacular.
The National Bonsai Foundation
The National Bonsai Foundation are the people make sure that the National Bonsai and Penjing Museum continues to thrive. You may have noticed that we've been regularly promoting the National Bonsai and Penjing Museum on this blog. Part of this stems from the fact that I am on the Board of Directors of the Foundation, but really, that's only a small part. The primary reason is because I love the Museum and want to share that passion with as many people as possible.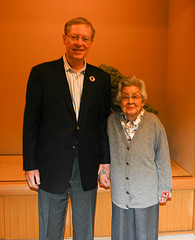 Felix Laughlin with Mrs. Saburo Kato at Mansei-en. Visit Morten Albek's Shohin Europe for an interview with Mr. Kato and some great photos.
Two Important Bonsai Books
Mr. Saburo Kato was the foremost Bonsai Master of his generation and also the author of one of the best bonsai books around: Forest, Rock Planting and Ezo Spruce Bonsai. Morten Albek is the author of the Shohin Bonsai, Majesty in Miniature, an excellent book on small bonsai.