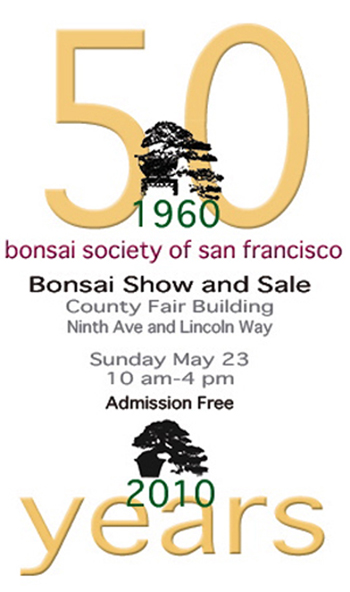 A note from Lawrence LeClaire (BSSF President)
May 22 & 23, 2010 – Bonsai Society of San Francisco 50th Anniversary Celebration and Show at the County Fair Building.
The Bonsai Society of San Francisco will be holding their 50th anniversary celebration at the County Fair Building in Golden Gate Park on Saturday, May 22 from 5PM-10PM. The night's events will feature cocktails from 5-6PM, a catered buffet dinner from 6PM-7PM, and a bonsai demonstration by Kathey Shaner, curator of the Bonsai Garden at Lake Merritt from 7:30PM-10PM. The demonstration material is an old Japanese white pine and will be raffled at the end of the demonstration. We will have an additional special raffle of quality bonsai trees and related material at the celebration as well. A BSSF member bonsai sales area will be open to our guests for the entire evening. We invite members of the bonsai community to attend. Please RSVP at (415)621-0935 or email at RSVP(at) bssf.org by May 15, 2010. Please include your name and number of guests that will attend.
On Sunday, May 23 our bonsai display will be free and open to the public. The show will feature 20 Tokonoma displays, bonsai displays, bonsai demonstrations, hourly bonsai raffles, a bonsai clinic, and a giant club sales area. Visit the
BSSF website
for information and updates.
Source:
Bonsai Bark