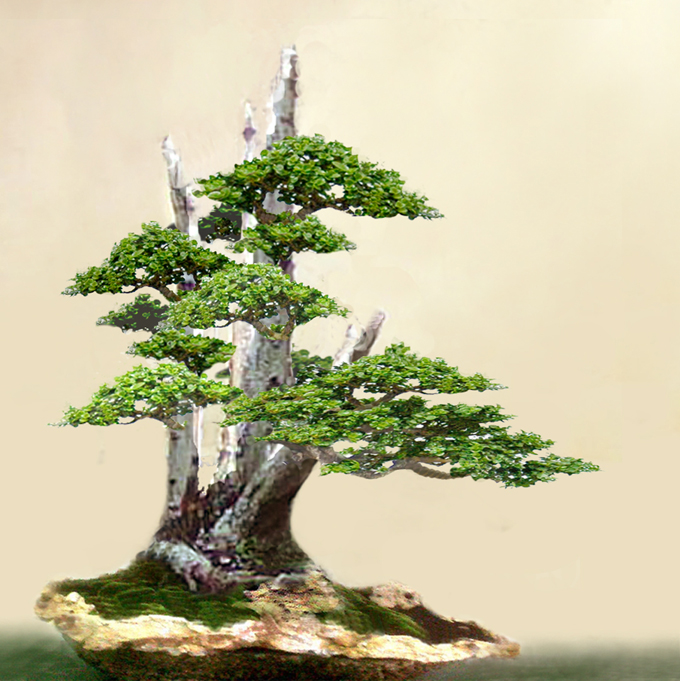 Robert Steven's simulation of a tree that was submitted by David Royinsyah (below).
Robert's vision and artistry
This one is quite unusual. The stock is totally raw and not that interesting. Robert simply manufactured all the branching and the foliage from nothing and the trunks have been transformed from taperless sticks to what looks like naturally time-worn wood. He even created a new pot from scratch. Testaments to Robert's vision and artistry.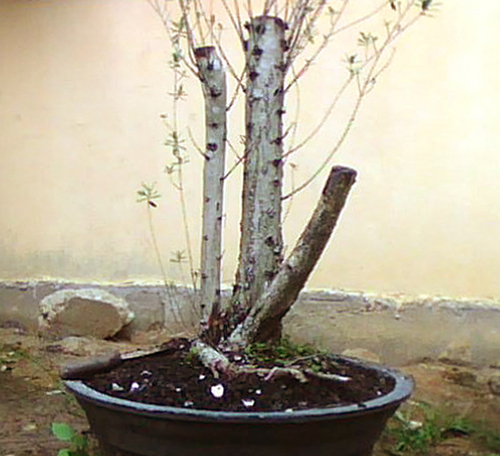 David's original provides an usual challenge for Robert.

Robert's comments
Usually I only critique finished bonsai and not raw material. However, David Royinsyah sent me this photo to challenge me, because I often mention that I believe any material can be made into nice bonsai.
Many people, including David, would consider this poor bonsai material, because the trunk lines are very straight with no taper and nothing seems to be interesting.
I agree that this material can hardly be done into nice bonsai if we are thinking the "textbook" way with the 1-2-3-apex rules. No way to correct the taper and train an ideal apex with the 1-2-3 branching. But once we master the "transformation" concept (read my book
Mission of Transformation
), then we can easily simulate nature and turn this material into nice bonsai.
In my opinion, this is ideal material for a triple-trunk design. The position and the size of the middle trunk is just perfect for the focal point, and the leaning motion of the front trunk nicely adds dimension to the front. Now, our job is to design the overall composition in a reasonable manner that follows horticultural clues.
To handle the straight clear-cut trunk, let's assume this tree used to be much taller with tapering trunks, but an accident happened that caused them to be shortened. Then this tree went through a transformation process to form its new shape. To simulate this, I would carve the tops of the trunks and create deadwood down the trunks to suggest the accident and simulate the aging process. At the same time, the
shari
will lend a tapering illusion. The dead apex and the
shari
will enhance the story and create beauty.
Thanks to the fact that the tree is a Pemphis, we can easily expect new shoots from almost anywhere on the trunk and rapid growth in the training pot. This allows us to easily train new branches with the ramification shown in the simulation. A handmade pot will suit the design.
General comments
There is more than one way to design any bonsai and my critiques and recommended solutions might not always fit your taste and personal preferences, but I always try to give my opinion based on artistic and horticultural principles.
To understand my concepts better, please read my books
Vision of My Soul
and
Mission of Transformation
which are available at
Stone Lantern
.
Source:
Bonsai Bark