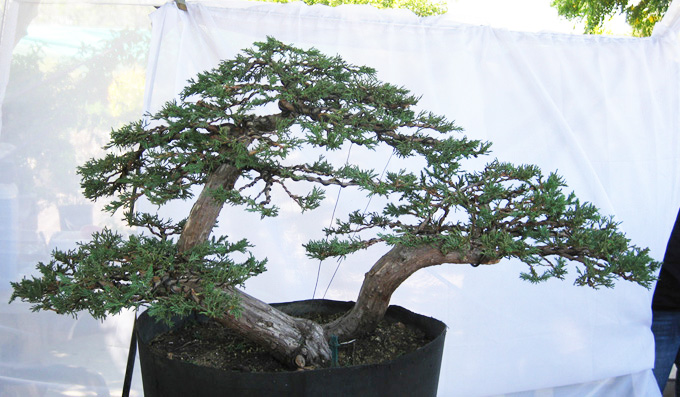 Tom Duong's juniper (prostrata?) was a very close second in our Bonsai from Scratch contest
.
Second place prize
Congratulations to Tom Duong, our
Bonsai from Scratch contest
second place winner. Tom's juniper gave
Aaron Klalid's juniper
a real run. Tom's second place prize is a $250 gift certificate from
Stone Lantern
.
Judges comments
"Strong entrant. Using a branch to cover the abrupt bend on the main trunk is a good choice. Nicely wired crown." "Great performance; some of the larger foliage masses lack clarity and definition, such as the large low branch to the left, and the smaller trunk is one single dome – try to make these areas modular." "It is really well wired, looks like a long term project." "Good choice of stock to start with and a well-thought out result."
My comments
Several things stand out about Tom's bonsai. First, his choice of stock was excellent. Good stock is half the battle. Second, Tom's skill in shaping with wire is undeniable. I am particularly impressed with the crown, where this skill (and a high degree of patience with a somewhat tedious job) shines through. I also like the way the movement of the two trunks flows together (particularly the crowns). It's unfortunate we can't see the tree in a bonsai pot, though not potting it may have been the right choice (health-wise) on Tom's part. We'll just have to use our imaginations (mine shows an unglazed light-grey medium-depth oval). It's also unfortunate that more care wasn't put into the photos.
Stay posted for the rest of the prizes
Please accept my apologies. I know I promised we'd post the rest of the winners today, but in order to do them justice, we need just a little more time. Thanks for you patience and understanding.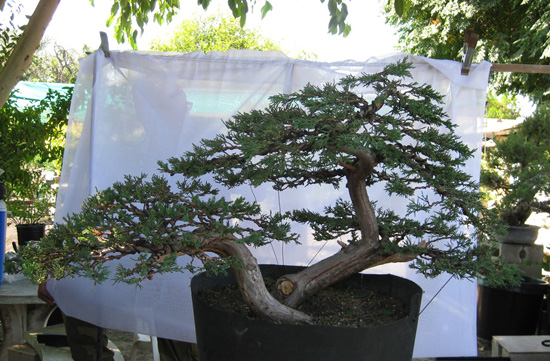 The back. Interesting how the flow of the tree seems to change some when viewed from this side (aside from the obvious point that it is a reverse view). It would have been a better shot with less background noise (clutter). I wonder if the quality of the photos was the difference between first and second place.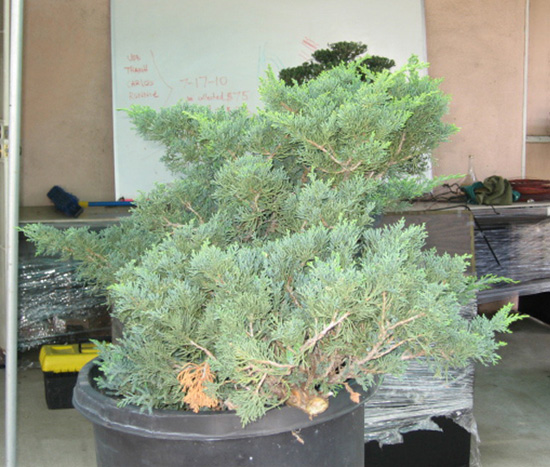 Before. There's a bonsai in here somewhere.
Source:
Bonsai Bark