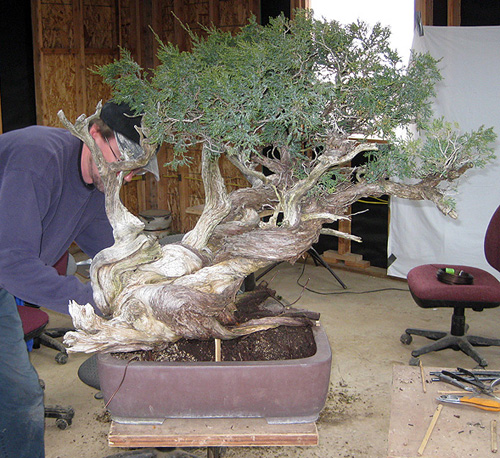 You could spend your whole life collecting bonsai and never find one as impressive as this. From
Michael Hagedorn's Crataegus Bonsai Seasonals
. Here's what Michael says about this photo… "Initial potting of a large Rocky Mountain Juniper, Winter 2010 Seasonal." Just a little understated. If this is any indication, it's worth noting that Michael has his students working on trees of this caliber (and caliper).
My guess is that three days with Michael will be worth months or even years of fumbling about in your backyard in hopes that trial and error will see you through. Not that you shouldn't fumble around a bit, that's part of how we learn. But time with a genuinely accomplished bonsai artist and teacher can do wonders for your fumbling, and your bonsai.
"The Crataegus Bonsai Seasonal is designed for those who are not from the Portland area and who would be willing to travel to learn bonsai. This program is similar to how an apprentice learns in Japan: By working on our teacher's trees, we study at a higher level. Now in its second year, the Seasonal was created out of requests of students from around the country who were interested in coming to Portland to study."
Continued here…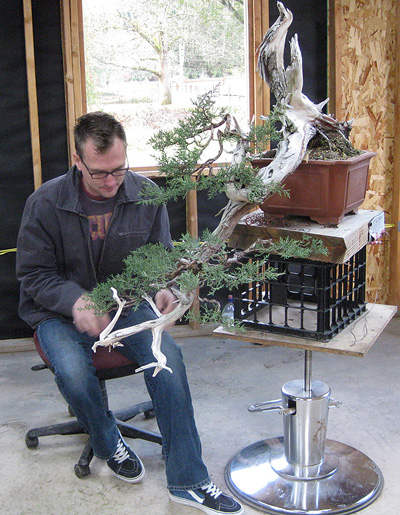 Ram Lukas rewiring a Western juniper during the Fall 2009 Seasonal.
Source:
Bonsai Bark