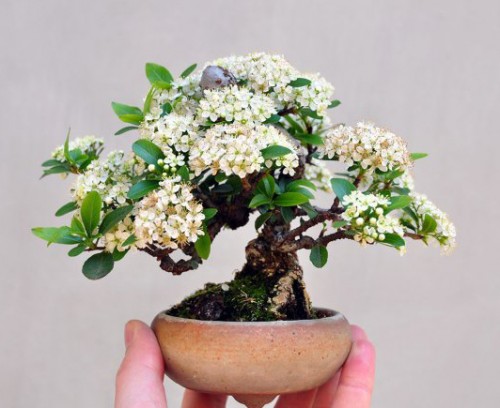 Bonsai Mike's shohin pyracantha (firethorn).
Ordinary bonsai conventions don't necessarily apply
The Japanese (and others) tend to design flowering bonsai to show off the flowers. Other considerations, like taper and branch placement, often take a back seat. So much so that many flowering trees are displayed only when flowering (and fruiting). They pass the rest of their time tucked away in some corner of the nursery.
A lot to lik
e
Even though it breaks one of the primary conventions of bonsai (the first two branches are next to each other) the bonsai above is so sweet that you could show it anytime, with or without flowers and berries. However, because of the way it has been designed to produce and show off a profusion of flowers, it will always be at its very best when flowering or fruiting (clusters of red or orange berries will replace the flowers).
Speaking of bonsai conventions (rules or guidelines)
Over 500 items are discounted
plus double discounts on orders over $50
Source:
Bonsai Bark